Even before they could climb into the ring, Cuba's female boxers had to roll with the punches.
While the island has long been famed for its top-level male boxers, women were blocked by an official prohibition on their practicing the sport competitively.
Cuba's government-run INDER sports institute claimed the sport was too violent for women, even as Cuban female athletes competed successfully in judo, karate and taekwondo.
For many hopeful women boxers on the island, the ban smacked of sexism – and a missed opportunity.
"From the time we were in our mother's wombs we are fighters," long-time boxer and trainer Namibia Flores Rodríguez told CNN.
"We are always fighting for something, to raise our kids, to help our families, to be independent."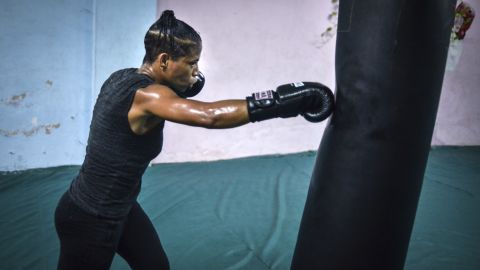 Cuban women were previously limited to training in isolation and with no hope of competing in the sport.
Flores says she trained for years as many women interested in boxing do in Cuba: on her own dime and in gyms lacking in even the most basic equipment.
While they could learn and practice the sport as a hobby, the ban on women's boxing meant Cuban female athletes could not take part in tournaments on the island or abroad.
At least officially, women's boxing in Cuba did not exist.
A new dawn
In December, the first cracks in that glass ceiling appeared when officials made an about face after announcing that they had obtained the proper safety equipment for them – such as padding and head gear.
"We took this step when we were sure, really convinced that it was the moment and we didn't have any concerns because our women would be protected," Cuban Boxing Commission President Alberto Puig de la Barca told reporters at a news conference.
The change, sports officials said at the news conference, was also the result of a newly implemented family code on the island that said women were required by law to have the same opportunities as men. That apparently included boxing.
Two weeks later, the first try outs were held at a cramped facility with a single boxing ring. Many of the women boxers had only recently switched from competing in martial arts or had merely dabbled in boxing.
Still, they sparred with passion, drawing appreciative cheering and applause from spectators.
After the first bout, an announcer exclaimed to the crowd of people watching, "This is historic!"
Cuban boxer Namibia Flores has fought for years for women's boxing to be recognized in Cuba.
Boxer Legnis Cala Massó said she started boxing to learn self-defense and was still shocked to be putting on gloves to potentially represent her country.
"My first dream was to participate and that they would consider the women who were fighting in Cuba," she told CNN ahead of her bout. "Now I want to be on the team."
While Cuba's female boxers have a long way to go, officials are hopeful that their enthusiasm and natural ability can make up for lost time. Sports officials predicted that Cuban women boxers would compete in the Central American and Caribbean Games starting in June and the 2024 Summer Olympics in Paris.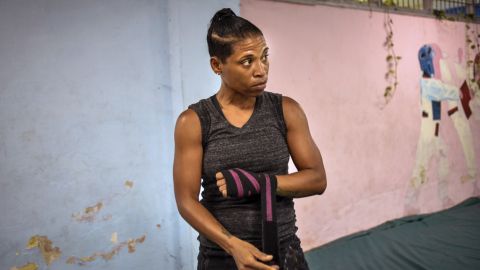 The 39-year-old Flores has been a pioneer for Cuban women boxers.
Many female boxers said they had endured sexist jabs directed at them over the years, but novice fighter Melany de la Caridad Girado Bermudez told CNN she felt the perception of women taking part in the revered national sport was finally changing.
"In my case all the comments I have received have been positive. That if I make an effort, I can achieve it," she said. "That Cuban women have the potential for this."
Source: edition.cnn